Cheap Corporate Gifts
Building business relationships are the heart of any successful business enterprise, and giving corporate gifts is one of the ways for any business enterprise to cultivate and cherish the business relationships to a higher level. It also affirms the friendship between to partnering companies through a plethora of corporate gifts products.
Giving of corporate gifts is a cherished tradition that would continue to endure through the passage of time and changes to the business landscape. When giving corporate gifts products, be sure to balance your selection with originality and taste. In addition to their traditional use around holiday seasons, gifts have many other applications in business. Corporate gifts ideas include a diversity of products and they are available in a wide variety to choose from. You can easily find a promotional item for any occasion and for any person.
Corporate gifts giving are beneficial for customers, partners, workers, managers, and those associated with a business organization. By sending corporate gifts, you reaffirmed your relationship and project a connotation of thanks to the employees, customers or clients for helping you in the progress of your business.
Corporate gifts giving are applicable for employee recognition. They are gifts given to recognize employees for exceptional behavior. Actions worthy of special recognition include going "above and beyond" to please a customer, putting in long hours to complete a project on time, making a cost-saving or productivity-enhancing suggestion, or completing a big sale. Corporate gifts are also typically given to employees as a long service award.
For customers: After you have determined which clients can accept gifts, think carefully about the gift and how it's going to be given. Gifts have the most impact when presented personally by the people who have direct contact with buyers.
For consumers, the idea is to spur buying behavior by making an offer.
Corporate gifts products are widely used as an excellent marketing strategy by which a business can create brand awareness. Unique personalized gifts are in demand in both commercial and personal world.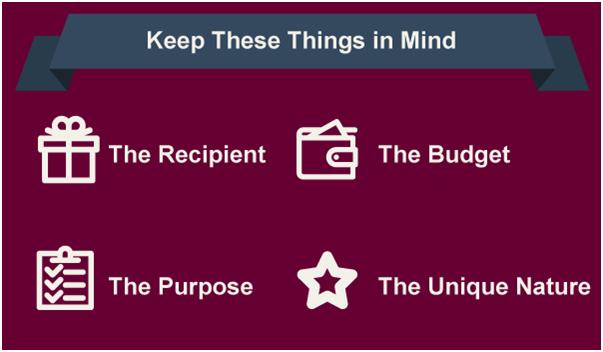 Corporate gifts are often used by companies to launch various products and services in online and offline markets. By offering custom made gifts to their existing customers, the companies gain maximum exposure in the business portals.